Theos stimulates the debate about the place of religion in society, challenging and changing ideas through research, commentary and events.
For the latest thoughts from the Theos team and guest contributors on current issues around religion and society go to Theos.
Based in the United Kingdom, Theos researches and investigates the intersection of religion, politics and society in the contemporary world.
Examples:
Bridging the Gap: Economic Inequality and Church Responses in the UK
Science and religion: mapping the landscape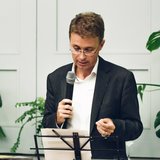 I personally find it reassuring to know that debates about the future of our country in a rapidly changing world are informed by the thoughtful and rigorous work coming out of Theos.
Joy Carter, Professor and Vice–Chancellor of the University of Winchester
oOo